Johnny Depp's lawyer Camille Vasquez was spotted visiting the actor at his concert in Prague along with other members of his legal team.
Depp recently emerged victorious from a highly publicized court battle with Amber Heard over a 2018 op-ed for The Washington Post, in which she said that she was a domestic abuse survivor.
The jury largely sided with Depp, awarding him $10 million in compensatory damages and $5 million in punitive damages on June 1.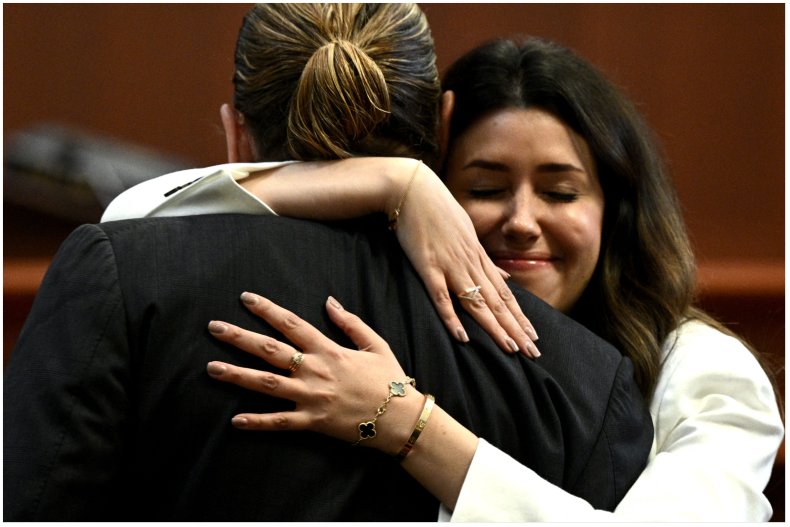 Vasquez was widely praised for her performance in court during the high-profile defamation trial, becoming a celebrity in her own right. She became the subject of dozens of viral moments, and was awarded a promotion following her success in the courtroom.
Meanwhile, the Pirates of the Caribbean actor has embarked on a European tour with guitarist Jeff Beck and has been playing multiple concerts and has released new music.
A clip of the attorney appearing to reunite with Depp was posted by the Instagram account thejdcase, which posts pro-Depp content. It can be viewed here.
"Team Depp reunited!" the clip is captioned. "Camille Vasquez, Jessica Meyers and Samuel Moniz went to see JD perform in Prague."
Jessica Meyers and Samuel Moniz are other lawyers on the actor's legal team.
The clip shows Depp and his legal team having a chat in what looks like a backstage area, as the actor waves to some fans.
During the trial, a clip of Vasquez comforting Depp in the courtroom delighted fans on social media.
The lawyer previously described romance rumors as "sexist," and recently opened up about the situation again.
"Of course, I did [hug him]. He's my friend, but he's my client first, and he was going through something very difficult," Vasquez said in an interview with Univision, per Spanish outlet Marca.
"I love my clients very much and I am Hispanic, I like hugging and touching people, not kissing. But I did give him a hug because he needed it."
Vasquez previously told People that she is "tactile" and "hugs everyone" when asked about the situation.
"I guess it comes with the territory of being a woman just doing her job," Vasquez said in June.
As for Depp and his revived music career, the Edward Scissorhands actor has apparently taken swipes at ex-wife Heard on his new album, 18, a collaboration with Beck that is set to be released on Friday.
One track titled "Sad Motherf***in' Parade," contains the lyrics: "You're sitting there like a dog with a seven-year itch… If I had a dime, it wouldn't reach your hand."

link