A chorus of giggles breaks out in the corridor outside the compartment. There's a stag party on board the train, and the stag has been dared by his mates to ask two young women if he can take a selfie with them.
So far, so stereotypical, except I'm on a Czech train, the stag party is Czech, not British, and our destination is not Prague but Olomouc, a city in Moravia, the Czech Republic's less-visited, easterly region.
This year the tourism arm of the Czech government has been promoting the country's extensive, low-cost rail network to show that it can meet demand for low-carbon travel. But there's an ulterior motive: taking people out of Prague and into Moravia.
The Czech capital's overtourism woes are well documented – yet for every Prague business owner complaining about too many tourists, there's one in Moravia complaining there are not enough of them. Moravia is a region I know well – I lived there for almost a year some time ago – but I'll admit that during that time, I rarely took the train. I'll be putting that right with this short, cross-country itinerary, which trundles from Prague to the Moravian capital, Brno, and on to Olomouc.
Starting with a day in the capital, I hurry past the tourist hotspots of Charles Bridge and the Old Town Square, with its astronomical clock, down streets scented with bread dumplings, beer and the sugar-dusted, helix-shaped cakes known as trdelník. I'm anxious for respite from the crowds, and I find it in the Grand Cafe Orient, a cubist cafe that first opened in 1912. It's in the House of the Black Madonna: a former department store designed by Josef Gočár, co-founder of the Czech cubism architectural movement. The cafe closed just 10 years later, when cubism fell out of fashion, but in 2005, new owner Rudolf Břínek reopened it, basing the restoration on 1920s photos of the cafe. It's a flawless reconstruction, right down to the zigzag coathooks and striped satin upholstery.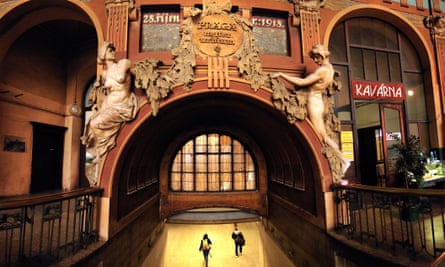 The next morning, I rise early and walk to Prague's main station, through the neo-Renaissance-style ticket hall and on to the first-class carriage of a Railjet train operated by České Dráhy, the state-owned national rail service. My ticket cost just 600Kč (£21). Young families, elderly couples and teenagers laden with shopping shuffle on. I don't see a single other tourist.
The flat, farmland of Bohemia becomes hillier and quainter as the train rumbles into wilder Moravian territory, passing through pine forests studded with red-roofed cottages.
We pull into Brno's immense central station, built in 1838. Then, it was a jewel of the Austrian empire, the terminus of a line that led to Vienna. As Brno industrialised and prospered in the following decades, parts were added with little regard for architectural continuity: an art nouveau facade here, a glass-fronted extension there. It's an appropriate introduction to the city, which appears not so much built as stuck together: Austro-Hungarian confections jostle with functionalist marvels and communist-era monstrosities. Last year, Mendel's Greenhouse became the newest addition to the mix: a minimalist steel-and-glass space that hosts science-related exhibitions and events. At the greenhouse I meet Ondřej Chybík, one of the architects, who explains the reasoning behind the pared-back, timeless design. "This building should stay here for ever," he says. "This is the holistically sustainable approach."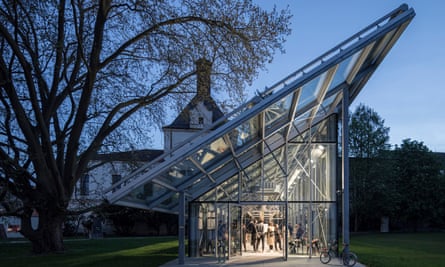 Gregor Mendel was arguably Brno's most famous resident: through a series of experiments on pea plants from 1856 to 1863, the Augustinian friar laid the foundations of modern genetics. The greenhouse in which Mendel conducted his experiments was destroyed by a storm in the 1870s; Ondřej's glittering creation stands on its foundations. Suspended from the ceiling are DNA-motif tapestries and pea plants in steel bowls – subtle nods to genetics' founding father.
As with Mendel's pea plants, Brno is a place where ideas cross-pollinate: one in five residents is a student at one of the city's 13 universities. Many stick around after graduation to work in Brno's theatres and music venues. Wandering the city, I hear flutes trilling from rehearsal rooms. Behind baroque facades are creative vegan restaurants, shops selling locally made ceramics, and Anybody, a film-themed erotic roleplay hotel opened in 2019.
The management team behind Anybody also run Slast, a neon-soaked basement bar, which I visit that evening. I sink into a French empire-style chair, surrounded by grinning, Tiki-inspired murals; a turmeric-infused cocktail is pressed into my hand, its sharp scent mingling with drifting tendrils of hookah smoke.
The next day, I take a train 50 miles north-east to Olomouc. The rolling stock is more provincial than the cross-country RegioJet, with a lurid teal-and-blue colour scheme and no aircon. Barring that – and the aforementioned stag do – it's a smooth journey.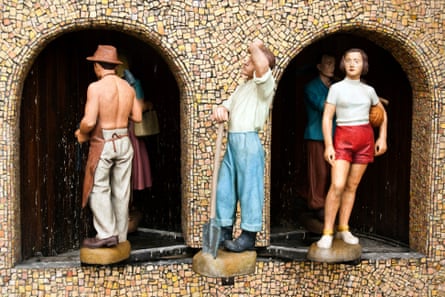 On a city tour, guide Štefan Blaho tells me that Olomouc is the Edinburgh to Brno's Glasgow. I can see the parallels: what it lacks in grit and guts, it makes up for in glamour. The main square, with its Unesco-listed Holy Trinity Column, is pure Moravia baroque, an elaborate architectural style influenced by Olomouc's Italian population. The Italians got their hands on the cheese, too: I catch the occasional whiff of gran moravia, a Czech take on parmesan.
One strange yet pleasing anomaly in the main square is Olomouc's communist-era astronomical clock, which Blaho says "may be the only atheist astronomical clock in the world". Instead of the apostles of Prague's clock, the mechanism honours the working classes: figures depicted include a baker, a miner and a mechanic.
From here, many would catch another train on to Austria or Slovakia. But I recommend meandering further around Moravia: to the vineyards of Znojmo, and the castles in and around Mikulov. After so many years of playing second fiddle to Prague, it's about time this fascinating region took centre stage.
link