The classic rail route from Prague to Vienna through southern Bohemia was relegated to secondary status in the 1970s, but today it still offers one of the most engaging railway journeys in central Europe. Never ones to rush, my partner and I decided earlier this month to travel the length of the Emperor Franz Joseph Railway by slow trains.
We could, of course, have just hopped on one of the fast Railjet services which dash from Prague to Vienna via Brno in little more than four hours. But we were keen to travel through an out-of-the-way region of southern Bohemia by recreating a Habsburg-era slow travel experience.
Cast back to 1873, and Vienna was hosting the World Fair while celebrating 25 years of Emperor Franz Joseph's reign. The newly opened railway from Bohemia to the Austrian capital was named after the monarch, and this route was well used by travellers from Prague to Vienna intent on visiting the World Fair before it closed on 31 October 1873. In those days, there were four direct trains each day running the length of the Franz Joseph Railway from Prague to Vienna, the fastest being a daytime express with first-class carriages, taking nine hours, and the slowest an overnight train that took 18 hours for a leisurely ride between the two cities.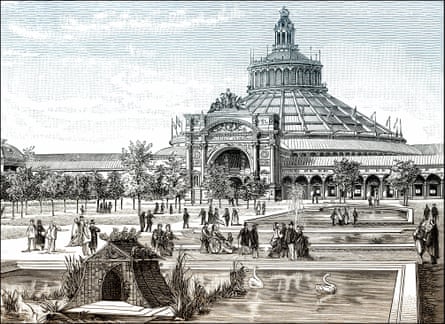 So on a sunny day in early October, we rattle south from Prague on a regional train bound for Tábor, the first stage in a cross-border journey requiring several trains and an unexpected ride on a minibus. Looping south through Prague's suburbs, we slip by freight yards and container parks, eventually gaining open countryside just beyond Hostivař. Then there's a cavalcade of switchbacks, up and over ridges, briefly touching the Sázava Valley at Čerčany. We discover a mini-bistro hidden away in the rear carriage of the train, so Sunday lunch is Czech goulash soup and local beer.
Forests and lakes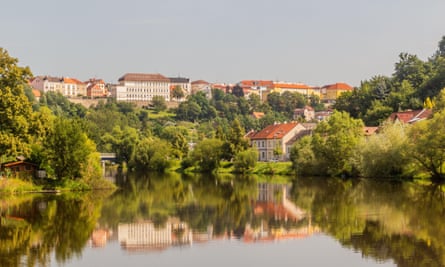 From Tábor, the Franz Joseph Railway follows the gentle Lužnice Valley upstream into Austria. Long sections of the line are just single track so progress is slow. The line is not electrified beyond Veselí nad Lužnicí. We change trains there on to a local train which stops at every wayside halt. The train's two antiquated carriages are hauled by a noisy diesel engine. We pull down the windows and enjoy a leisurely Sunday afternoon trundle through rural Bohemia. It is beguilingly beautiful, so much so that any ambition to get to Vienna by evening quickly fades.
Journeys less planned are those that foster enduring memories. The train pauses by a lake at Vikov and we are tempted to alight. But the prospect of finding a hotel seems remote. We stay on the train, slipping by reedy marshlands with plenty of alder and willow. There are tumbledown barns caught in tangles of weeds, stately storks surveying water meadows, and lakes lined with little wooden boathouses. Soon we stop at Třeboň Lázně, where the station building boasts an elegant white colonnade. It seems promising, so we seize this opportunity for an unplanned overnight stop.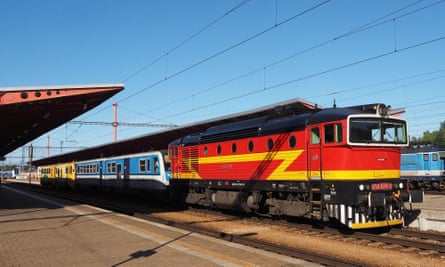 It's a 10-minute walk from the station into the centre of Třeboň, a striking small town with a charming square, with attendant castle and a park by a lake. Small-town Bohemia boasts some of the most livable communities in Europe, and our potluck arrival in Třeboň strikes gold. In October evening sunshine, as summer slips into autumn, life seems good as we savour the tempting menus on offer at restaurants that rely on abundant supplies of carp and trout from local lakes.
Impromptu overnight stops work well, we find, when there's ample time to explore. With a mid-afternoon arrival in Třeboň, and no pressure to leave early next morning, we have every opportunity to learn about the history of this small town, which serves a rural hinterland with an aquaculture tradition that can be traced back over many centuries. The local economy revolves around freshwater fish.
On into Austria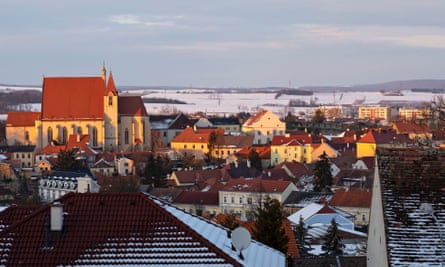 Next day we are back on the station platform waving down the local train. Třeboň Lázně is a request stop. The train conductor checks our Interrail passes and tells us that there aren't any trains running on over the Austrian border today. "Don't worry," he says. "There will be a bus instead."
The mere mention of a rail replacement bus service evokes fear for many travellers. But we take such things in our stride. As we approach České Velenice, there's an announcement that the train will terminate there and everyone must alight. In the station building, the smartly dressed station manager asks if we are bound for Austria and tells us to wait by the road outside. It turns out that we are the only passengers making this cross-border excursion; it's an eight-minute ride in a white minibus over to Gmünd in Austria, where a double-decker train waits for the onward journey to Vienna.
You couldn't wish for a gentler introduction to Austria than the journey through the Waldviertel (Woodland Quarter) from Gmünd to Vienna. It is two-and-a-quarter hours of slow travel bliss, slipping east through forested hill country towards the capital. Leaving the woodlands, we drift by vineyards and fields of sunflowers and pumpkins. Away to the left there's a dramatic view of the picturesque walled town of Eggenburg perched on a granite plateau. Then we follow the Schmida Valley down towards the Danube. Crossing the Danube at Tulln is pure theatre, then we follow the river's right bank downstream to Vienna.
There are fine views of the Danube as we ride through communities that have long had an uneasy relationship with the mighty river. Perennial flooding means that people are uneasy about building too close to the river, and some structures are perched on stilts to give a measure of protection. Compared with other main lines into Vienna, this old rail route from Bohemia really interacts with the Danube. We pause at Heiligenstadt, on the northern fringes of the city, where most passengers alight for good connections on to city transport. So we are almost alone on the train for the final few minutes into Vienna's Franz-Josefs-Bahnhof, which is subterranean and devoid of any hint of imperial grandeur.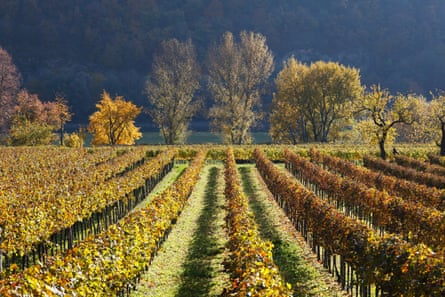 Travel facts
Following track work on the cross-border stretch between Českė Velenice and Gmünd, through trains from Prague's Hlavní Nádraži station to Vienna Franz-Josefs-Bahnhof will be reinstated from 1 November, with one train on weekdays and two at weekends. From 10 December the route will be served by twice-daily trains in both directions. Travel time on the direct trains is just over five hours, with 22 stops along the way.
There are plenty of local trains running along the route, normally requiring two or three changes along the way and still with an overall travel time of under six hours. For full flexibility, follow the author's lead and opt for an Interrail pass, which can be used without any supplements or seat reservation charges on this route. Alternatively, the flexible point-to-point fare from Prague to Vienna via this route is CZK1,519 (£53) and allows a one-night stopover anywhere along the way. Buy at cd.cz.
We stayed overnight in Třeboň at Hotel Bílý Koníček (doubles from £46) where the breakfasts (£6) are truly magnificent.
Nicky Gardner is a Berlin-based writer. The 17th edition of her book Europe by Rail: the Definitive Guide celebrates slow train journeys across Europe. It can be ordered from the Guardian Bookshop
link