PRAGUE — Most Americans visiting the Czech Republic come through Prague — as I did when attending CzechTourism's Travel Trade Day in Karlovy Vary. During that visit, I stayed in two properties opened just this spring. They are across a tiny square from one another and a couple of blocks from the entry to Prague's Old Town.
• First up was the 176-room Andaz Prague, the Czech Republic's first Hyatt, fashioned within and preserving a historical 1916 building with an oddly shaped footprint planted on an oddly shaped patch of land.
Two original courtyards are now indoor spaces topped with glass. One is the hotel bar, the Mez, a very inviting space and great for a party! The other former courtyard is part of a larger reception area and convertible for events.
Because of the rooflines, rooms on the top floor have the appearance of attics and feel like cozy apartments.
Finally, the historical building is the springboard for a raft of design features inspired by local history and myths. One design element nods to the city's Jewish Quarter and its tradition of the helpful golem. In my room, a golem seemed to support a mirror and another supported a bedside lamp.
Room rates start at about $405 (390 euros), single occupancy, and $448 (430 euros), double, breakfasts included. All rates include free minibars, stocked with all Czech products but no alcohol. Guests in suites can choose one free sightseeing option. The Andaz is a no-smoking property.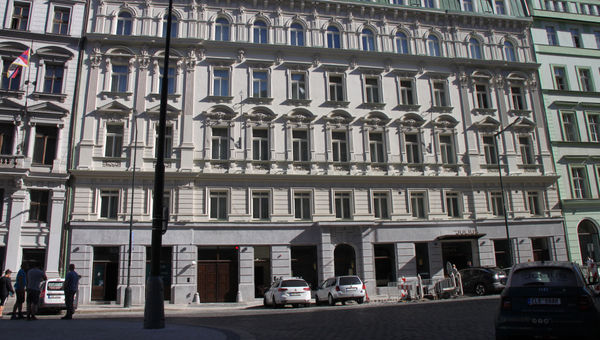 The exterior of the Julius Residence in Prague. Photo Credit: Nadine Godwin
• Second came the Julius Residence, a rather spare creation inside a mostly new build, with two themes: high tech and sustainability. Further, most rooms are suitable to long stays, with kitchens in 124 of the 168 units; 93, with pullout sofas, can accommodate four guests.
High tech means no room phones. The presumption is guests, on arrival, will load the property's service app on their cellphones. That tool is designed to let guests check in, make service requests, order food from inside or outside the Julius, interact with an on-site, self-service laundry and chat with staff at reception, which is manned 24/7.
In the push to be green certified, the Julius, a no-smoking property, promises sustainable amenities and organic cotton goods. It installed EV charging stations in its garage.
The property is part of Julius Meinl Living. The business originated in 1862 when Julius Meinl opened a grocery store in Vienna. A property with lots of kitchens, the Julius will open an on-site grocery store in September.
The minimum room rate is about $182 (175 euros) for the smallest room accommodating two, without kitchen.
link