To see a group of students, many in school sweatshirts, collecting by the entrance of Eisenhower Library on a crisp fall day doesn't seem so unusual. But look closer: Among those in blue Hopkins gear are students in orange and blue. These are juniors and seniors of another sort, students from the Baltimore Polytechnic Institute—or Poly, as many of their sweatshirts read—a Baltimore City public high school about 2 miles northwest of Johns Hopkins University's Homewood campus.
College and high school students united on Oct. 19 to learn together about Baltimore's student and civil rights activists of the 1960s and '70s. Library archivists pulled together a collection of documents and artifacts from that era, including letters, photographs, and copies of the Johns Hopkins News-Letter. The day culminated with an in-person interaction with a trio of participants in that era's struggles, including retired Judge Robert Bell, who was arrested during a 1960s sit-in protest and was represented at trial by Thurgood Marshall.
Two weeks earlier, these students gathered at the Maryland Center for History and Culture to tour the new exhibit Passion and Purpose: Voices from Maryland's Civil Rights Activists. For the Poly students, these outings augment their African American history class. The Hopkins participants are here as part of the history course called 1968: Rebels, Revolution, and the Right-Wing Backlash.
Poly instructor Patrice Frasier says the outings are beneficial for her students because many are participating in National History Day, a year-long program that culminates in the creation of history projects as part of a national competition. "We do focus on Baltimore in our African American history class, so that's helpful, but they're also coming here to learn how to do research and discover research sources for their projects," she says. "And that they're able to interact with the college students is also a nice benefit because a lot of them are at that point where they're trying to decide where they want to go to [college]."
Most of the Poly students have never been on the Homewood campus before, including 16-year-old Ramone White. "The campus looks fun—big and a bit intimidating, but the students I've met are cool," White says. White enjoys history class, but when he goes to college he'll likely study math, he says. So what he glimpsed as the group walked through Brody Commons was noteworthy. "I saw students doing equations on whiteboards," White says. "It's exciting to think about college—a little nerve-racking, too."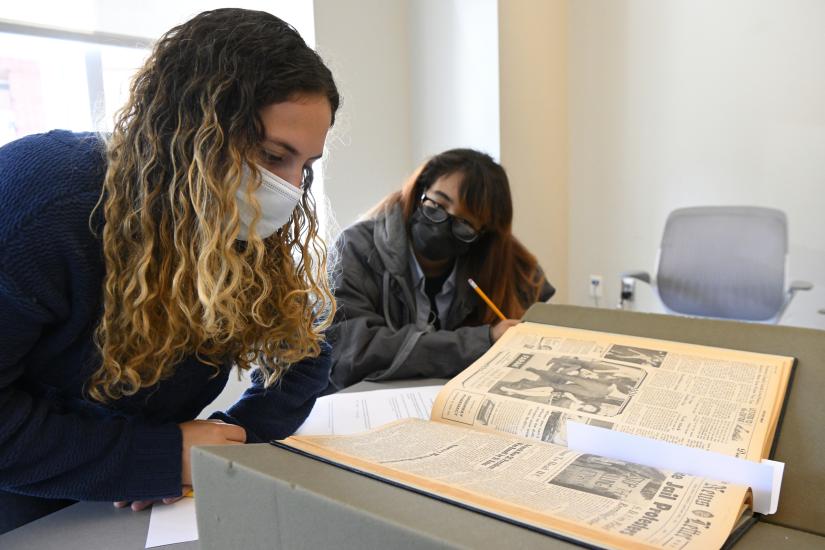 This effort uniting schools to study Baltimore history was born of a somewhat unlikely source—visiting assistant professor of history Victoria Harms, who came to Hopkins from her native Germany in 2018 as part of a program by the DAAD German Academic Exchange Service. An expert on Cold War–era European history, she knew little about Baltimore, and her first Hopkins class, focused on the pivotal year 1968, looked only at such things as the Prague Spring and unrest in France. But she grew increasingly curious about the city outside her windows and began visiting and making connections with the institutions that help tell the city's story, such as the Reginald F. Lewis Museum of Maryland African American History & Culture.
"I came to realize that it's a mistake not to include Baltimore's history in my class because it's so rich and representative of what was happening in the '60s," Harms says. "To understand Baltimore today, it's pertinent to understand the 1960s."
The idea of adding public school students to the mix was born of her meeting with folks from JHU's Center for Social Concern and participating in its Engaged Scholar Faculty and Community Partner Fellows Program, which promotes and facilitates community-based learning opportunities. "I thought it was a great idea for my students, who tend not to be from Baltimore, to meet students in the city public schools," Harms says. "The age difference is not that much, but they often come from very different places."
This is the second year Harms' class has partnered with one from Baltimore Poly, a magnet high school founded in 1883.
On the most recent campus visit, Mackelle Lowry, 17, was among the Poly students on campus. She says she "might go into history" in college and was struck by some of the archived materials, including fliers and articles about Baltimore's Black Panther Party. "They were attacked and called a racist group even when their actions were justified or for just doing everyday things because of the way they looked," she says.
Hopkins junior Daniel Quezada, an international studies major from Arkansas, joined Poly students in examining some articles and photos related to anti-Apartheid protests that occurred on the Homewood campus amid calls for the administration to divest in South Africa.
"I got to speak with a student about the 2015 uprisings and hear their firsthand perspectives on that. I didn't experience any of that aside from on my TV screen."
Daniel Quezada
Junior international studies major
"It's been a lovely experience to get to know the Poly students and getting to learn from them about their experiences at their school and Baltimore in general," he says. "I got to speak with a student about the 2015 uprisings and hear their firsthand perspectives on that. I didn't experience any of that aside from on my TV screen."
After students examined the archived materials, Monica Blair, historian and education coordinator for the Hopkins Retrospective project, led a group discussion about how archiving works. Noted was how today's activists leave much less of a paper trail so "digital archiving" is a growing phenomenon, working to preserve things such as tweets and emails.
Period documents are one way historians perform research, and interviews with living individuals who experienced historic events are another. In addition to Judge Bell, this part of the day's events featured Joyce Dennison, a graduate of Morgan State who was arrested for picketing a segregated shopping center near her campus, and Bronwyn Mayden, another veteran civil rights activist and former dean of University of Maryland, Baltimore School of Social Work.
The trio described their protests and subsequent arrests—and in Dennison's case, her efforts to conceal her arrest from her parents. A Poly student asked how they kept the marches and sit-ins from turning violent.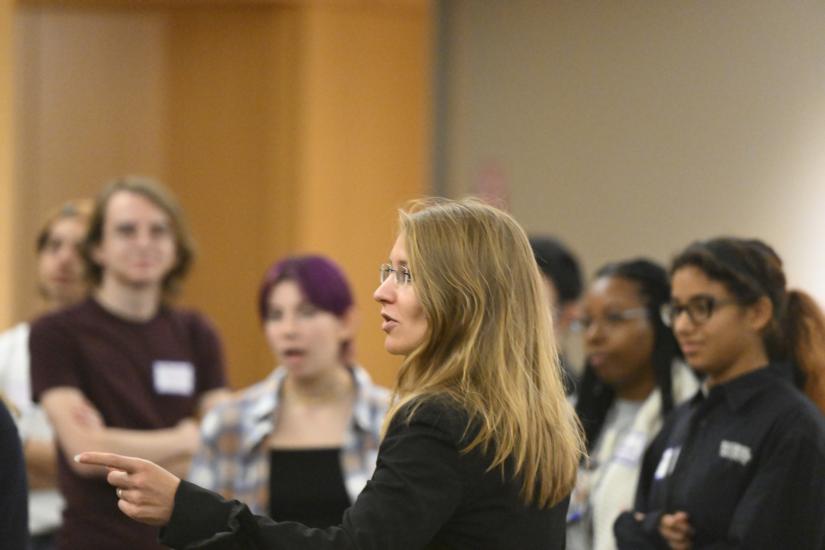 "A lot of preparation and training went into demonstrations," Bell says. "The last thing we wanted was for someone to retaliate for something done to them and have things get out of hand. Nonviolence was stressed from the moment you were asked to become involved."
Dennison then asked the students a question: "How many of you have credit cards?" Just about every hand went up. She then explained how in her day women could not be issued cards in their names. "It had to be a male to activate a card—your dad, your brother, or your uncle, but it couldn't be you," she says.
This proved a good segue into another lesson from the trio: History is important, but so is being engaged with current affairs and politics. "The rights you enjoy at the moment can be taken away from you based on the leaders chosen to make policy," Dennison says. "You need to vote in your interests and not let someone else tell you what your interests are because that is propaganda."
While walking to the bus to go back to her school, Poly junior Phoenix Shelton says she'd driven by campus but never visited before. "I was excited to hear that I could come back to do more research," she adds. In addition to words of the living witnesses, she was struck by some of the archived materials. "I read about Hopkins students protesting against this barber who refused to cut a Black boy's hair," she says. "It's not shocking to see anything like this because even today, things like that are still happening around our community. But it's important for students to see other students who felt the need to stand up against what is wrong."
As for contemporary Hopkins students? "They wanted to understand and listen to us and often agreed with what we had to say," she says. "We were able to have mature conversations as though we are pretty much in the same community. Which we are."
link