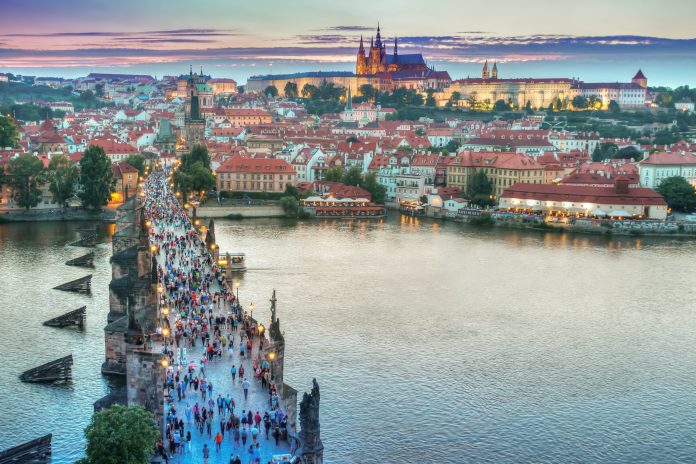 Every year, the Kentucky Institute for International Studies (KIIS) offers many study abroad opportunities for students attending Kentucky universities. This summer, Transy's own Dr. Ken Slepyan, along with a few other professors from the state, will lead students to Prague. Courses offered include History of Art Since 1300, Special Studies in Art History, Prague during World War II and the Cold War (taught by Dr. Slepyan), and Memory and Cityscape in Eastern Europe, which is taught by Dr. Karen Petrone, professor at the University of Kentucky and Dr. Slepyan's wife. Find more at kiis.org/programs/prague.
Dr. Slepyan hopes to have a lot of Transy students join this exciting opportunity. I had the pleasure of sitting down with him and asking him some questions about the trip.
What made you decide to take students to Prague?
Slepyan: I have taught several times in Poland, Ukraine, and other countries in Eastern Europe. KIIS wanted to know if I would be interested in going to Prague. It has been a major tourist destination in Europe since the end of the Cold War and it's very unique because unlike a lot of cities in Central Europe, it was barely touched during the war. 
Can you tell me a little about the class, maybe some things students will be learning or excursions that are involved? 
Slepyan: The class is centered on Prague during World War II and the Cold War but we will also be thinking about Czechoslovakia and Central Europe as a whole. I'm hoping to give students an understanding of the political and social life of the Cold War. We'll talk a lot about the crisis of 1938, what daily life was like under occupation, the holocaust, and we'll also take a tour of a show concentration camp made for the Red Cross during World War II. Another site we'll see is the village of Lidice, where a high ranking Nazi official was killed and the entire village was then massacred. Regarding the Cold War, we'll also talk a lot about daily life under communism, 1989, and the dramatic peaceful revolution and the overthrowing of the communist regime. 
What do you feel students can take away from the trip?
Slepyan: On one level I think just being able to see Prague and to see what a Central European city looks like, the culture, the vibe, the environment, etc. In terms of the courses, having a deeper understanding of life under occupation or during war time, the importance of a state like Czechoslovakia in these events, the decisions that people had to make on a daily basis weren't easy. Students will gain a more complicated understanding of what life was like for a citizen of Prague during these times. 
What can you tell me about some of the other classes?
Slepyan: There are a few art history courses which are super important because Prague was relatively untouched during the wars, all of the architecture is still intact. The memory and cityscape course will look at how the changes in government and regime have impacted the memory of these regimes and how they're reflected across the city. 
How difficult is it for students to apply/how competitive is it to be accepted?
Slepyan:  Apply even if you're semi-interested. It's not necessarily competitive, if you have a good faith interest in going abroad there's a fairly high chance of acceptance. Don't worry about competition, if you're interested just apply, the goal is for people to come, not to find reasons not to. 
Why is it important to take opportunities to study abroad during college?
Slepyan:  Study abroad fits perfectly into that kind of self-knowledge that one gets in college. It's an opportunity for students when their responsibilities are a little more limited than they will be in the post-college world. It's a chance to see something that is different than students are used to seeing. To be exposed to these things gives students the chase to think about other places and gain perspective. In my own personal experience, in terms of teaching, being abroad really helps to clarify and enrich perspectives.
Overall, this course is an amazing study abroad opportunity and experience. Even if it doesn't specifically fit into your major or minor, each class will count for Transy credit. The early admission deadline is December 1, and if you apply by this date you'll receive $100 off the program fee, the final admission deadline is February 5. If you have any questions or would like more information about the program, you can email Dr. Ken Slepyan at [email protected]. 
link