Blink and you'll miss it.
At the bottom of a hill just outside Prague's city center, we pass through a pre-communist apartment building. Exiting through the back, we enter the workshop of a living legend.
The soft-spoken but outrageously funny master carver, Myric Trejtnar, is internationally recognized for his achievements in crafting Czech marionettes. The puppeteer has spent more than twice the number of years behind a chisel than most of us in the room have been alive.
This week he is Professor Trejtnar, teaching Wabash students selected to participate in Costume Designer Andrea Bear's course Puppets in Prague. By week's end, even the students who claim to have zero artistic talent leave with fully maneuverable figures with fingers and painted faces. 
My role as the group's documentarian gives me a unique opportunity to observe the creative process that brings the puppets to life. 
The themes of the week are exploration, trying new things, celebrating the successes, and not letting mistakes define the work or the end product.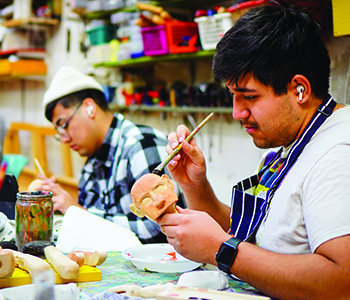 Immersion trips sometimes reveal new places with each sunrise as classes take in as much as possible in the time allotted. In Prague we have time to develop routines, like shopping at the same Protaviny (a local convenience store) each morning. In these everyday interactions, our communication skills adapt and flourish despite our previous fear of the language barrier.
We learn by trial and error how to use common Czech phrases to traverse city streets and the local public transportation system before the end of the first night. As we stare into our maps, Bear reminds us periodically, "Don't forget to look up!" 
The first few days in Prague, we meet Teddy Witkowski '15 and Michael Lembke '11, who now live there. We explore the city, averaging 20 miles of walking a day. We trudge across the Charles Bridge, over the Vltava River, and uphill to the 18-acre site of the stunning Prague Castle. Our jaws drop at the striking concrete vistas from the highest point in the city. 
By Monday we are ready for the task at hand. Each morning in the workshop, the master puppeteer begins quickly sketching models as a guide—not a blueprint—displaying the expected progress for the day. 
Hands and feet are the first appendages we form on day one. Carving facial expressions and painting take place on the final day in the workshop.
Trejtnar's close quarters provide an intimate space for close collaboration. We are in awe of the power and grace in his craftsmanship and his willingness to so openly share his wisdom. 
The puppet master emphasizes mistakes as an important and inevitable component in the making of marionettes. Spending tireless hours behind a block of wood can create a tunnel vision that distracts carvers, forcing their focus on asymmetrical eyes or fingers that feel too knobby. Trejtnar reminds students these imperfections are what give life to each character.
Blink and you'll miss it.
I arrived at Wabash, this small Midwestern campus tucked among the corn and soybean fields, with a camera in hand, less than four years ago. The creaking floorboards of Center Hall and the chiming bells of Pioneer Chapel welcomed me. In a few weeks, the Caleb Mills bell will ring me out.
I had a rough roadmap for my next four years, but I wasn't sure where the beaten path would lead me. There have been times, especially in the beginning, where I felt like I had no direction. I just kept walking—sometimes for miles—reminding myself to keep moving forward. Some days it was a trudge uphill. Other days I was at the highest point with a view of how far I'd come.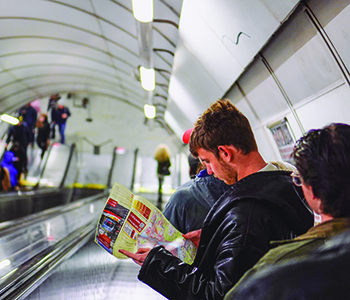 I developed routines, learned the language of the brotherhood. Each semester, professors provided a guide—not a blueprint—but an idea of the progress that would be expected of me.
I have learned side by side with other students and have been taught by faculty known around the world for their teaching, research, and wisdom. I have been surrounded by alumni, faculty, and staff who have willingly taken the time to listen when I struggled, given advice when asked, and cheered me on every step. They have reminded me that mistakes are important and inevitable. They don't define me but add to my story. They have given me life and character.
Working as a student photographer for Wabash has given me an added vantage point for understanding the fundamental traditions that make this institution so unique. I have followed people, organizations, and teams as each traversed parallel roads. We have all faced unique struggles over the past four years. Turns out, while our maps are all different, most of us have a matured perspective.
In the spring of my freshman year, I was fortunate enough to be in the class that traveled to London with Theater Professor Michael Abbott '85. There, we explored the city largely self-guided while working on independent projects. My interest in graffiti led to a job shadowing an artist for a day at a London skate park, a popular safe space for street artists in the city.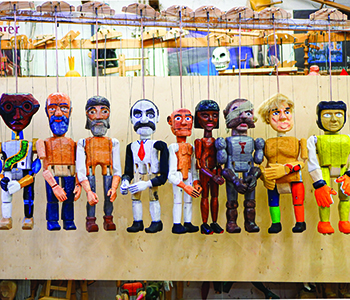 When we arrived at the workshop in Prague that first day, there were several blocks of wood that all seemed relatively similar. For five days we were guided and encouraged while carving chunks, chiseling slivers, and painting on color. We all started in roughly the same place at the same time, yet none of the puppets looked like any other. Freshmen enter Wabash like the blocks of wood that greeted us that first day, unshaped and rough around the edges. 
My college career has been bookended by trips to London and Prague—both global art and culture hubs. My trip to London three years ago set the standard for how to handle the numerous uncertainties that follow first-year college students. Traveling to Prague allowed me to put in practice the skills I learned in London and to adopt the advice offered by Bear: Whether abroad or at Wabash, explore the world more critically and openly, and don't forget to look up.
link